Expert advice on Body (skin) care
In this tete-a-tete with Prachi Bhandari, Head of R&D & Co-Founder at Aminu, I discuss why it is important to take care of your body skin as much as facial skin By Aman Mohunta
Editor: Hi Prachi, thank you taking out time for this discussion.
Prachi: My pleasure. Always happy to talk about skin, skincare and wellness.
Editor: Let's jump straight into it. Why do you say taking care of our body skin is as important as taking care of our facial skin?
Prachi: Skin is the human body's largest organ, and it's important to take care of it all — not just the skin on your face. From head to toes, skin shields us from our environment, protects against disease and harm, and makes it possible for us to move safely about the world. We hold the skin on our faces to a much higher standard than we do the skin on our body, but it is all the same skin at the end of the day. 
Neck, décolletage, hands get just as much sun as your face while your shoulders and back can be very prone to breakouts, upper arms or backs of the legs can suffer with keratosis pilaris (hair ingrowth).
Body care, also isn't just lathering on many products onto your skin to keep it healthy. It also includes eating healthy and exercising. You'll end up looking and feeling great, both inside and out. It is a great confidence booster and will result in a happier you. Additionally, doing body care is an excellent preventative self care for healthier longevity.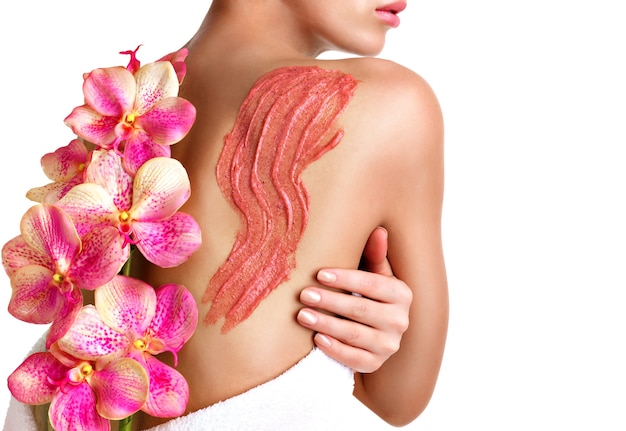 Editor: Why do you think people have recently become interested in body care?
First, the space is gaining momentum much because of increased acceptance of body-positivity over vanity. I believe, every body is worthy of adoration and awe. Second, from a practical stand point I see that there is also an extreme rise in body-baring styles of clothing, hence a focus on body treatments and product line helping bodies have hydrated, healthy and toned skin. Third, following a year of heightened stress during 2020, consumers are focusing more on wellness, hygiene and simple routines & rituals to help them feel in control of their physical and mental health.
What kind of shifts are you seeing in people's self care patterns?
People are more open-minded to taking a more holistic approach to their hygiene routine and this phenomenon is not exclusive to women. They're now opting for thoughtful formulas featuring fruit acids, botanical oils, and vitamins even in their body care. Specific areas of the body show signs of ageing, break-outs, sensitivity just like the face, so people are especially looking to target those concerns. For example, I have designed Aminu's AHA Body Wash keeping in mind multitude of concerns such as tan, body acne that people face quite frequently today. 
Not only growing focus on products, self-care practices such as full-body gua sha, dry brushing, and lymphatic drainage are gaining mainstream attention and are are no longer reserved for the face either. For those, who can't do all this at home, there is always the option of stepping into a spa or salon that offers high performing therapeutic body treatments.
It has been a big trend for 2022, do you see it getting bigger?
Wellness is a very broad category that encompasses a variety of areas, such as overall lifestyle, food, exercise, sleep, mindfulness, psychology, and stress. The success and rise of self-care products is a lot because of this shift, which also extends very easily to natural skin and body care products. Caring for one's body has become a holistic approach.
There is a growing awareness that body skin needs targeted treatments for concerns such as body acne, keratosis pilaris, ingrown hairs, and loss of firmness. People are realising that the skin on body needs more than just different kinds of massages. To address this very need, Aminu in partnership with JCB has launched specially & thoughtfully designed body care treatments. For those, who have not yet caught up, we help them understand this by sometime calling them 'facials for your body'.
Tell us a little about how do you formulate body care products?
Aminu products for body are formulated and developed with the same care and philosophy as those we do and use on our face. These next-gen body-care products are more about what is in them than what's left out. They are loaded with the types of ingredients that help skin thrive and treat concerns and function as it should. While the emphasis with these products is on results, they still offer the pampering aspect of body care. Hence, there is the sheer joy that stems from a consumer while they are pampering themselves with Aminu's Body Care - making them comfortable in their Skin.
People have found our home care and treatments really effective, relaxing with our functional fragrant oils and stress-relieving exfoliators and hydrating lotions to care for themselves. Now they are upping their game and making self body care or going out for these treatments into their regular routine.
Body care is Aminu's love language with yourself,  and we have got more holistic and effective treatments and home care.
Editor: Do you truly need different products for your body skin vs facial skin?
Not all epidermis is created equal, and depending where it is on your body, your skin may have different needs to help keep it functioning at its finest. Skin on the body is thicker than skin on the face and is not typically as sensitive. Our body skin has far fewer oil glands than the skin on our face. The subcutaneous layer of fat underneath our skin is also thicker on the body than on the face as a result the skin on our body is not as susceptible to fine lines and wrinkles as on our faces, neck and chest, where skin is thinner and so is the layer of fat.
Compared to the face, the body doesn't require quite as much maintenance when it comes to skincare. But the skin on your body still needs care, so while you might not need make-up removal, you'll still benefit from a deep but hydrating body cleanse to remove sweat, sebum and SPF that can clog pores and cause body breakouts.
Editor: Beyond a good body wash, would you recommend any other body products to our readers?
Exfoliation with say Aminu's sea salt body scrub is also brilliant for your body – not only to remove the tan but also is incredibly satisfying and helps the skin feel firmer and tauter. Hydration – a little lick of Aminu's Vit B Body Lotion goes a long way to help prolong that super-soft feeling. Just like a Sunday evening face mask and Netflix ritual, when you have more time, you can pamper yourself with Aminu's mineral rich body wrap appointment at any of the JCB outlets. Always stay sun-safe and stay hydrated.
Editor: Thank you Prachi for sharing all these insights. I am sure our readers will benefit a lot from your insights and start focusing on bodycare if they are not already doing it.
Prachi: Anytime and the readers can always reach out to us if they would like to know more about the right body care for their unique skin type.
---
come back here every day for more love and connection